While staying in the Clermont-Ferrand area, we heard about the entertainment park Vulcania (pictures of the park at the end of this text). We tried to get some information about what to expect and whether it is suitable for Milo (5) and Kira (4), but we found very little information. On the Vulcania website, everything was in French, with no apparent way to switch the language. Not really helpful. Only by chance and the help of some googling, we found the English version under http://www.vulcania.com. However, even with this website, we were undecided and unsure of what to expect. In the end, we decided to split up, Hardy staying with Kira on the campground enjoying the pool and me and Milo visiting Vulcania. Maybe this blog post will help you to make a decision when you consider visiting the park.
It turned out to be the right decision not to take Kira to the park. She would not have been able to do the "action rides" which I will explain a little later. First to the question if Vulcania is a science park or an amusement park. I would say that it is a science park with some elements of "action". To get the maximum of the park and to really learn about volcanoes, the earth and its history, the kid should be over ten years old. One reason for that is that everything is in French. You can borrow audioguides in English, German, Spanish, Dutch and some other languages for free, however, not in Swedish. When your kid is a five-year-old, who doesn't understand English so well, the audio guide is not helpful. It distracted me too much to listen to the audio guide, translate and at the same time keep an eye on Milo. In the end, we did not use the audio guide at all. That meant we did not learn so much, but the movies were still very well made. The images really sank in.
We came to the park around 11 am and were the last ones to leave (it closed at 6.30 pm). The park was almost empty during the entire stay, so we did not have to stand in any queue. Milo and I were full on and occupied for over six hours. Just for lunch, we had a short break and a few more peeing brakes during the day. We explored everything the nice cashier recommended us. If he had not been so helpful and taken the time to point out what would be best for Milo and me, we would not have been so "effective". We did for example not explore any of the exhibitions room that only had the information in Frensh (no audioguide for that part) To be able to see and do everything you would need two days and in peak season due to the queues maybe even three days.
The park is on a vast piece of land, and you have to walk a fair bit from the parking lot to the entry. The park is designed like a big volcano crater with three different levels. On top is a big spacious park area with a playground, picnic areas and a kind of water fountain the kids can play in. Bring your bathers!
Milo and I also brought our own sandwiches for lunch. That saved us some money and on a busy day at the park, you don't lose any time standing in a queue to get food.
The reason some people might consider Vulcania being an amusement park is the "action rides". All of them are designed like missions you are taking on. There are different TV screens while you are waiting to embark either a submarine or other kind of vessel. Once inside you either sit or stand and the chair or floor is moving. Wind, water mist, loud noises etc. will all enhance the experience. On some missions, you also need 3D glasses. The only attraction that is more of a typical amusement park ride is a self-driving train that takes you around (with a guide that only speaks French). For all attractions, you have to be above 90 cm or 110 cm. Milo could do all, but two of them were really scary for him.
I have scanned in the map of the park and all its attractions. The attractions with a cross we did. The two that have a red mark were scary for Milo. I would not recommend them for a weak heart.
Conclusion
My conclusion is that if you have children under 10 years that don't speak any of the provided audioguide languages, I would only visit during the low season (the high season I think starts after 14 of July peaking in August) when there are no long queues. If I had to stand in line for hours, and then not understand what was said I would not have appreciated the day in the park. In our case, with no queues Milo and I had a relaxing and fun day together, and we learned a bit about volcanoes (from the only attraction which had English translation). Milo has talked about volcanoes after the park as well. If you have children under five years, don't expect to do many things with them. Even less if they are under 90 cm tall.
I also recommend bringing a picknick, maybe bathers if you want to take the time for some running around under a fountain.
Recommended attractions
These are the Attractions that we got recommended suitable for a five-year-old:
Vulcanobul
An electric train that takes you around with a french guide speaking. Despite no English translation a nice little ride.
Terre en Colére
This ride was too scary for Milo. He decided to take the front row where the floor did not move then it was ok.
Réveil des Géants d Auvergne
This attraction has some surprises. Not to be used for persons having a phobia for snakes. I jumped on this one, but Milo was pretty cool. Just prepare your kid that there are things on the floor that will touch your legs.
Abyss Explorer
A very calm and easy ride. An excellent start to get to know what these rides are about. However, I had to tell Milo that the walls are actually not falling down. You will know what I mean when you try it out.
Premier Envol
This was Milos favourite, and we did it twice. You will fly like an Eagle in the air and watch the beautiful landscape.
Dragon Ride
This one was too scary for Milo. He started to cry, and then he closed his eyes and held his ears until it was over. There are terrifying dragons that come up in 3D.
Regards sur les Volcans
This one would have made more sense if we had used the audio guide. We just enjoyed the pictures of different volcanoes. It is like a big cinema with no special effects.
Odyssée Magique
In the same movie theatre like Regards sur les Volcans. We missed the audio guide, so again we just enjoyed the pictures from around the world.
Planete Dévoiléete
This attraction we did first since it only had one session in English. Got a little surprised that it was actually a live person that commented on the movie. It was fascinating, and this was the only one where we actually learned something about volcanoes.
Cité des Enfants
This activity you have to book in advance at the information desk. There were some water games where the kids could play with water. Then, in another room, they could smell different things, and do experiments with a ball. I thought it was all very poor and both Milo and I could have skipped it.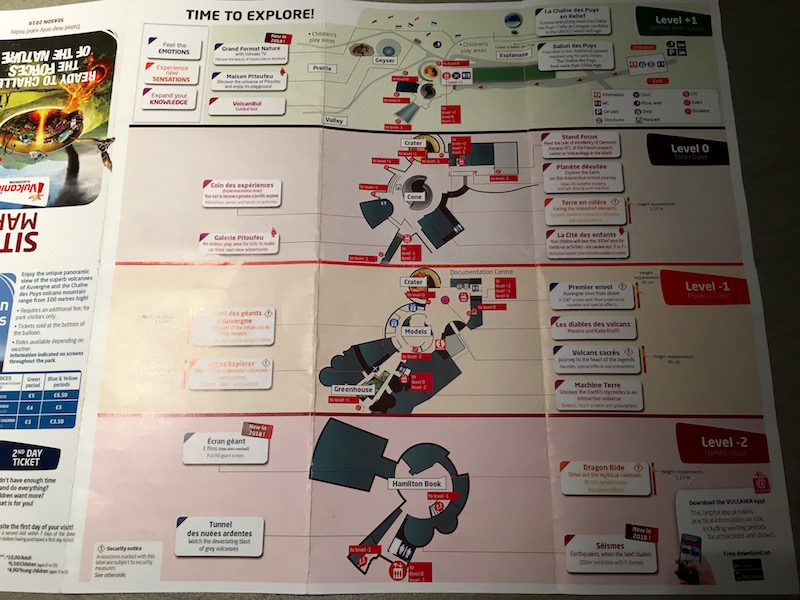 Map of the park.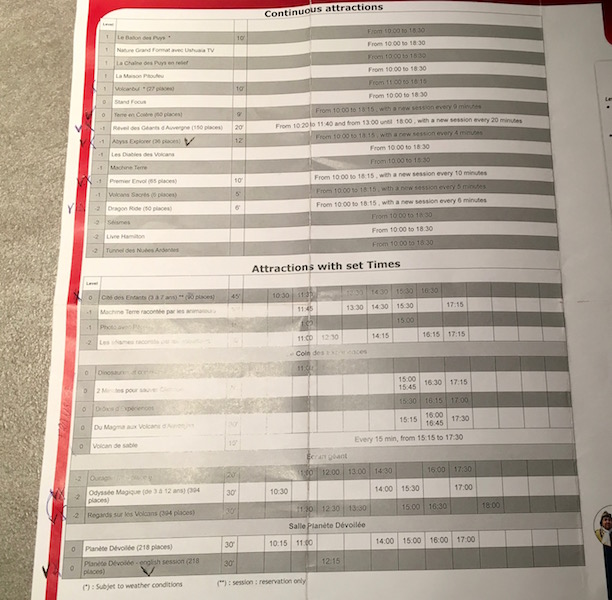 Suggested attractions marked with a check.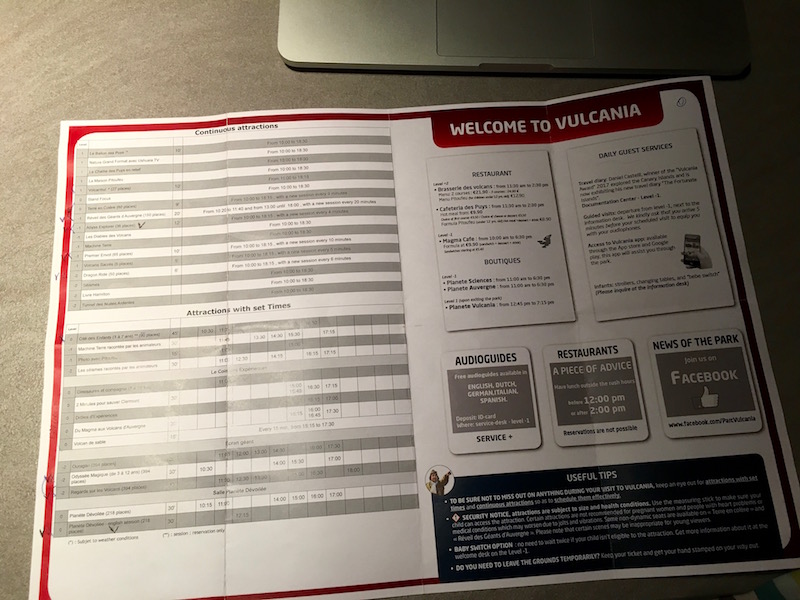 Suggested attractions marked with a check.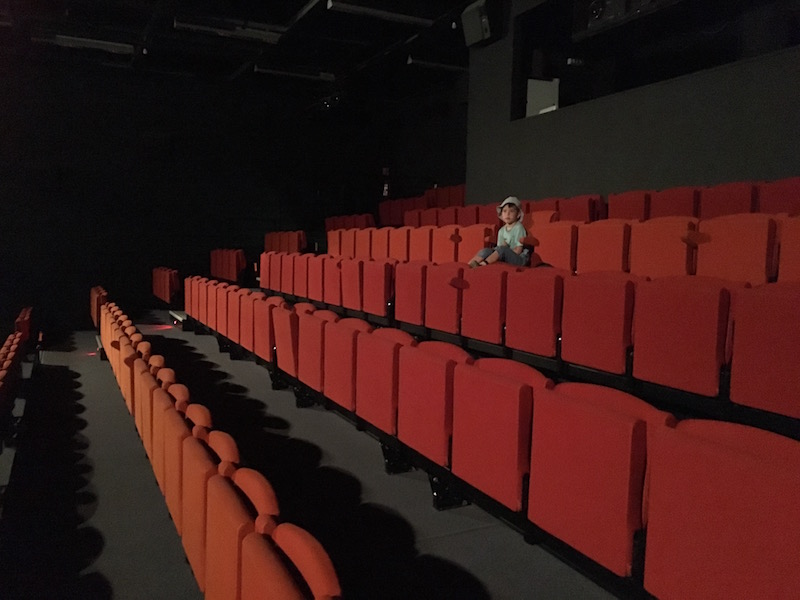 We almost had the park for our selves. This is in the Planéte Dévoilée.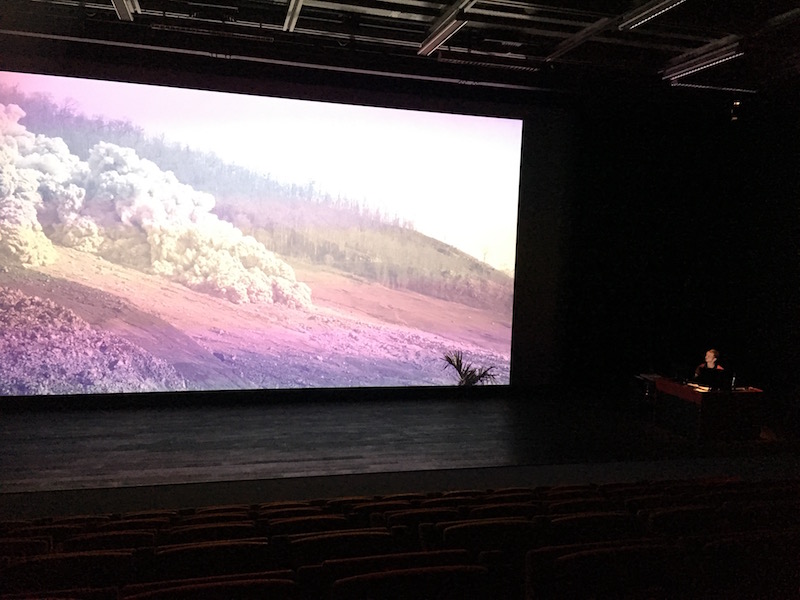 Here we learned a lot about Earth's volcanoes.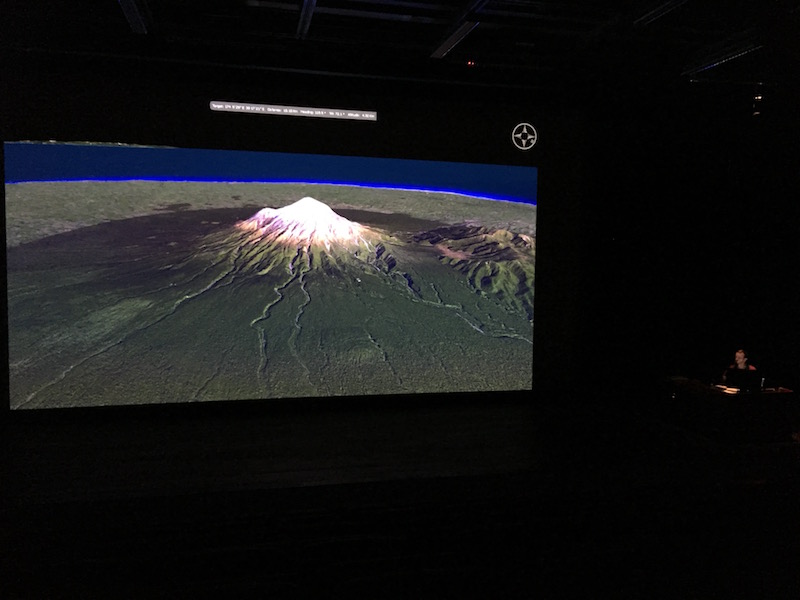 Planéte Dévoilée.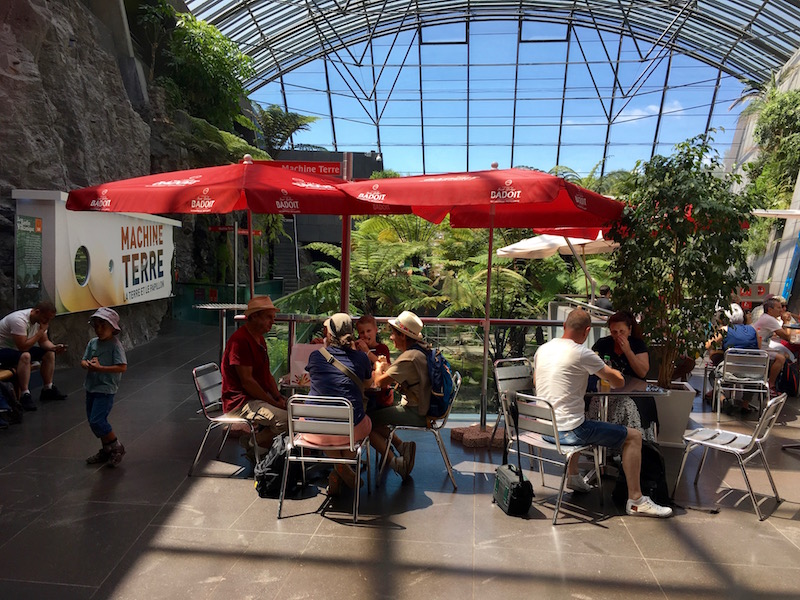 A nice lunch area. Here you can buy lunch, but there are plenty of picnic areas where you can enjoy your own lunch.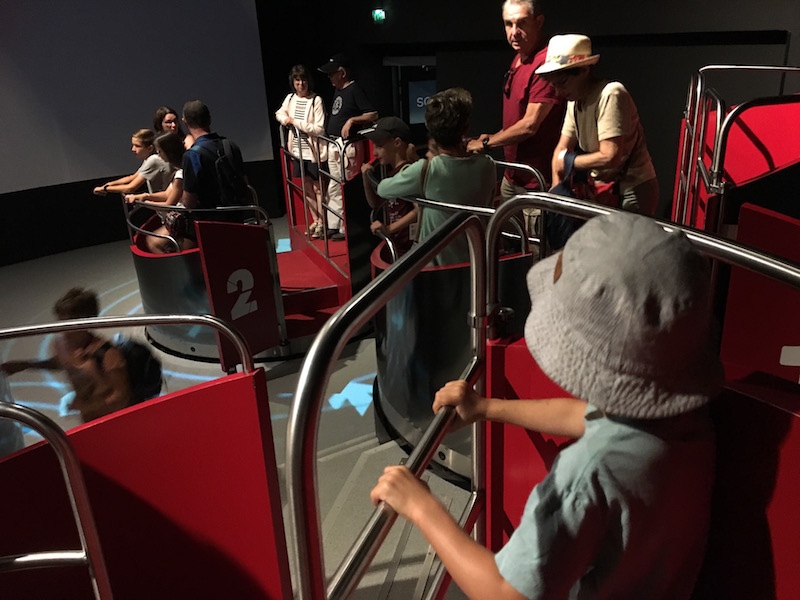 Milos favorite attraction - Premier Envol.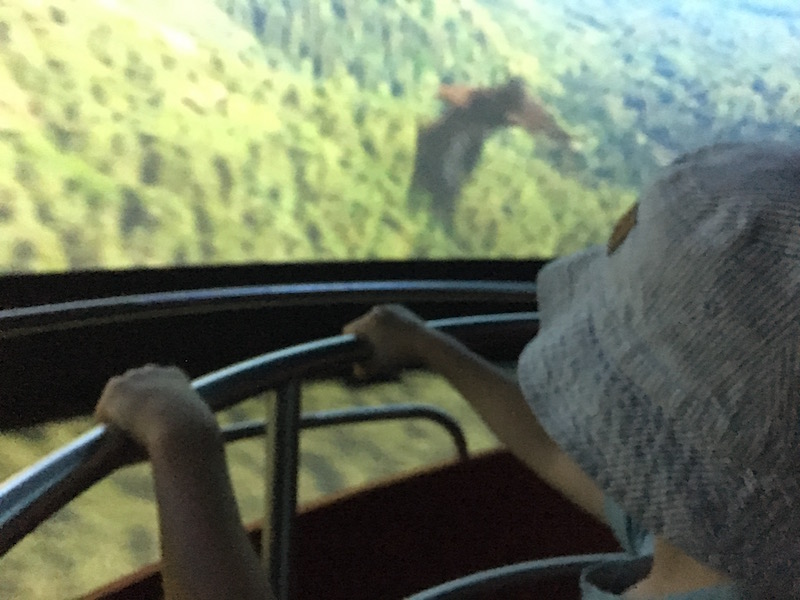 Premier Envol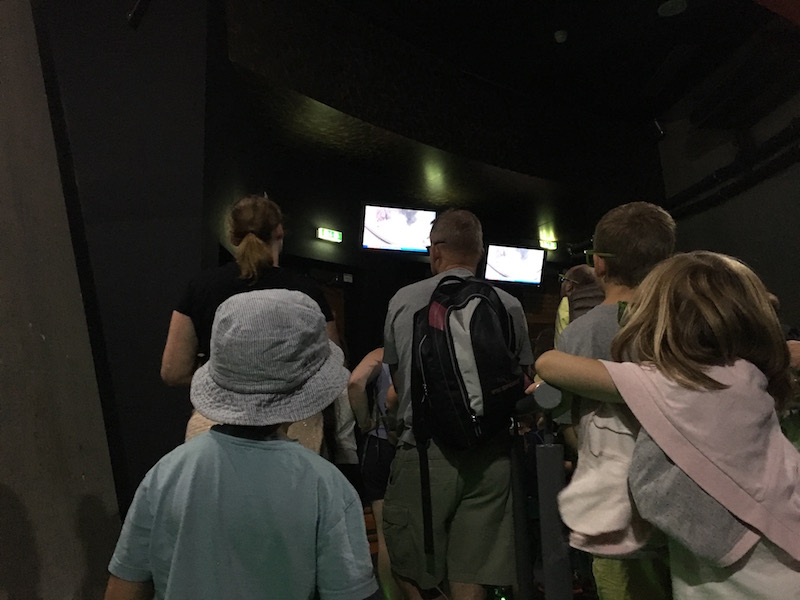 Several attractions started with a mission read out on TV screens.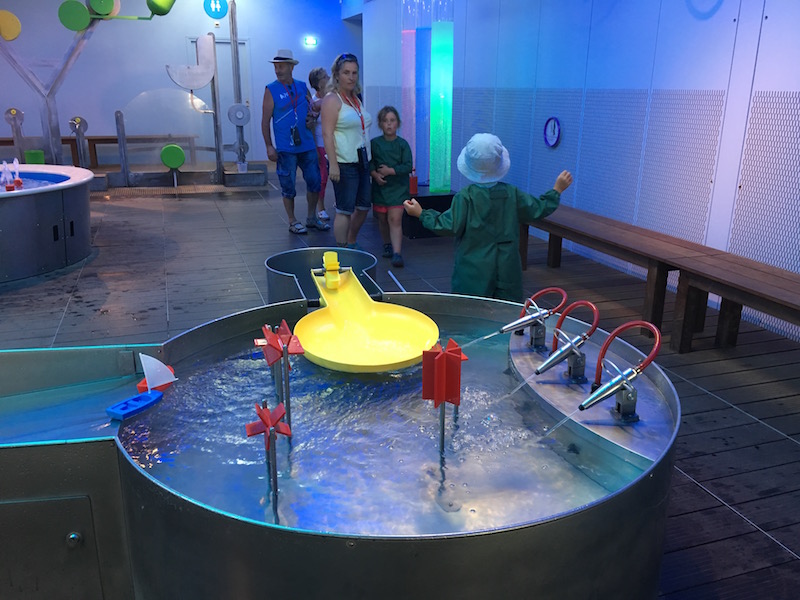 Cité des Enfants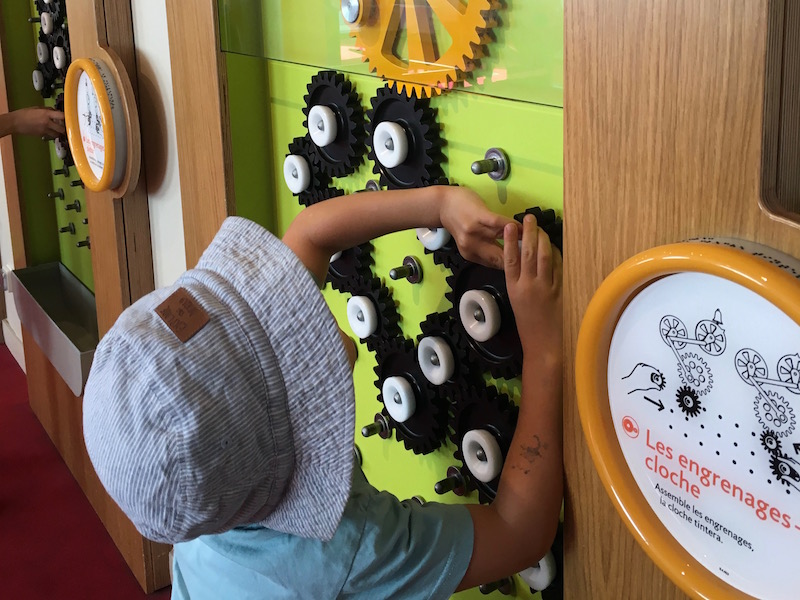 Cité des Enfants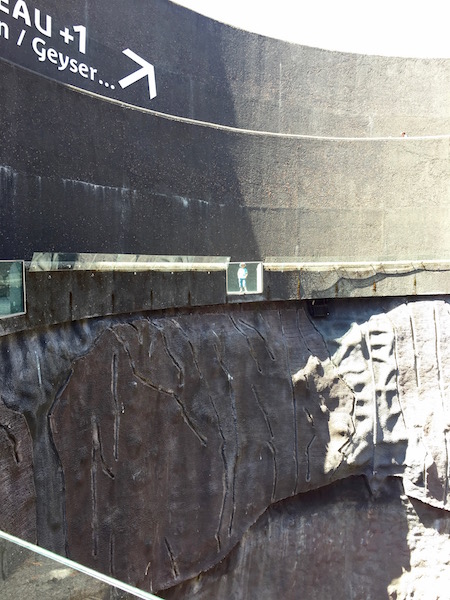 Three levels down in the volcano.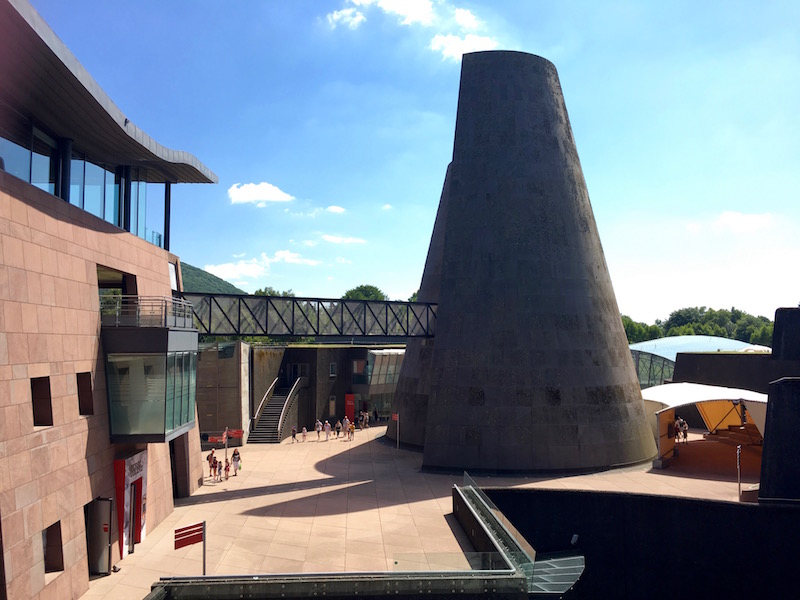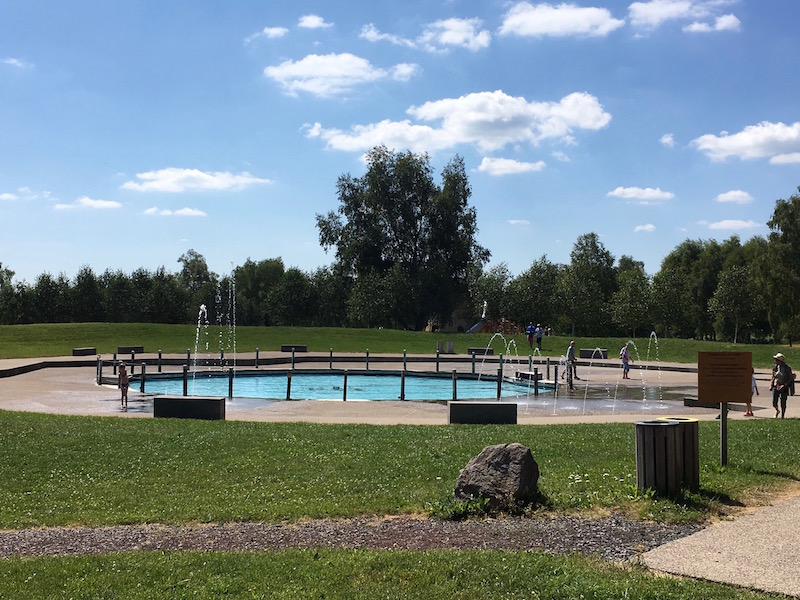 Outside on top of the "volcano". Here the kids can cool down.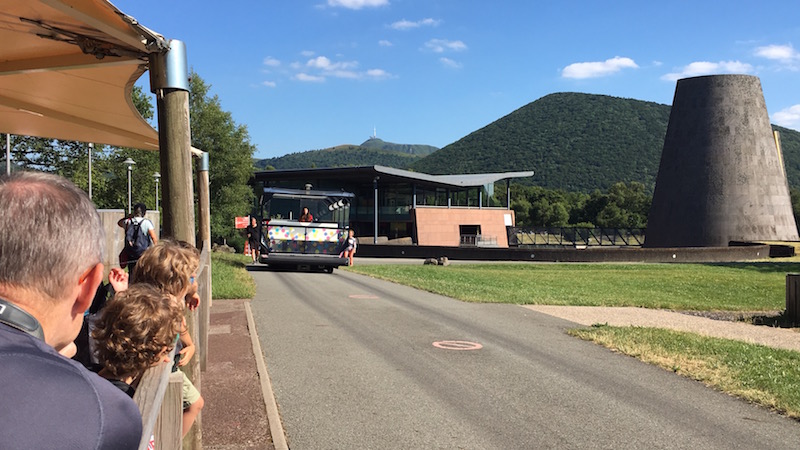 The Volcanobul is coming.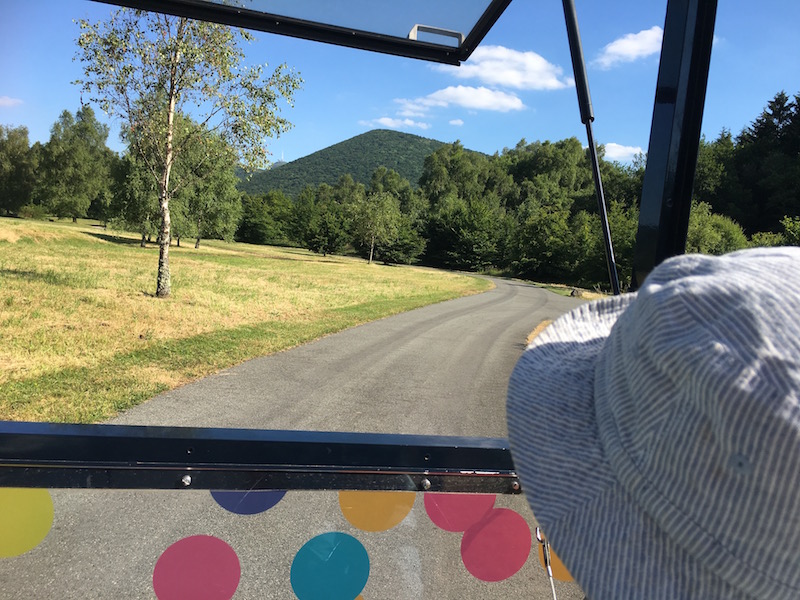 On the Volcanobul.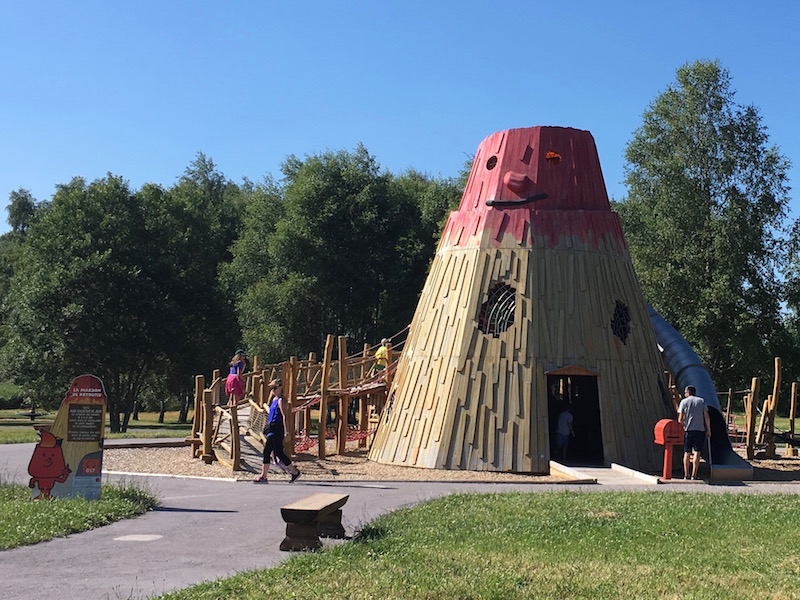 The playground.