Let's talk for a bit what we are up to most of the days? What does one do with two small kids and a dog and what are the challenges, after all Spain and Portugal are not known to be the most dog-friendly countries?
Restaurants
One key activity is finding something to eat and drink, be it a place for a quick fika or some lunch or dinner. Unfortunately, restaurants, are a no-go with dogs, at least inside. Germany is much better when it comes to this, even Sweden in my opinion.
Luckily many restaurants have outside tables where it generally ok to sit and eat with a dog. So far that was never a problem, only once we got asked to leave an open courtyard of a restaurant (La Tahona in Merida) with the reason that it was not allowed by law to have dogs in a restaurant, not only inside, but also on the patio. Nonsense in my opinion.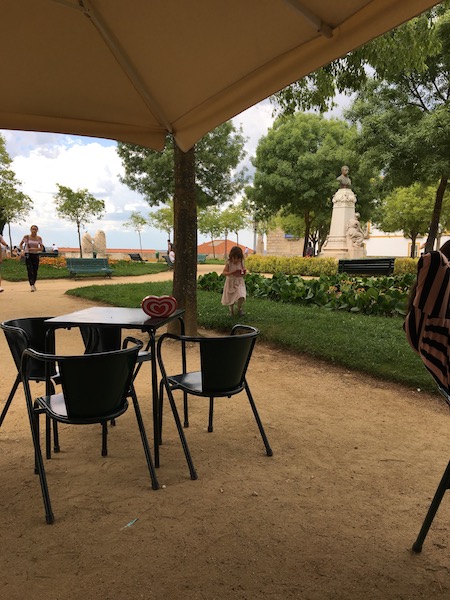 Public buildings
Generally, as soon as you enter a public building, like museums or churches, dogs need to stay outside. That's really not so different to other countries and partly understandable. In most cases, it is not a big issue that Ronja cannot get inside though. After all art museums are not really the most interesting things for a three and five-year-old either and if Anna or I really want to go in, we need to take turns, for example in Merida


While Anna and Milo visited the Roman theatre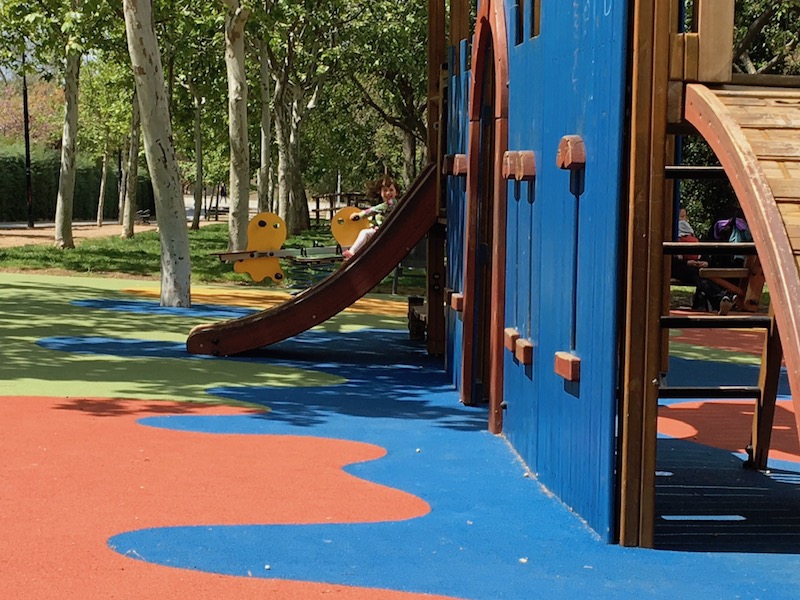 Kira and I located a nice playground
Along with our trip, we also meet a lot of friends (new and old) who happily offer some dog sitting. Thanks, everyone!
Exploring streets and parks
Anyways, back to what we do. We spend a lot of our time outside exploring the streets of the cities, for example Burgos, Madrid or Toldeo. We spend a lot of time in Parks, like the beautiful Retiro Park in Madrid where you can even go rowing, a big hit with Milo.
Naturally, we are also always on the lookout for a place to play. Milo and Kira can spot playgrounds from miles away.
Hiking
Another great activity is hiking. Right now we are spending a few days in the Monfragüe National Park. Probably the most impressing nature so far on our trip (top rated city for me so far is Toledo). The campground is great with nice views and only a few kilometres outside of the park.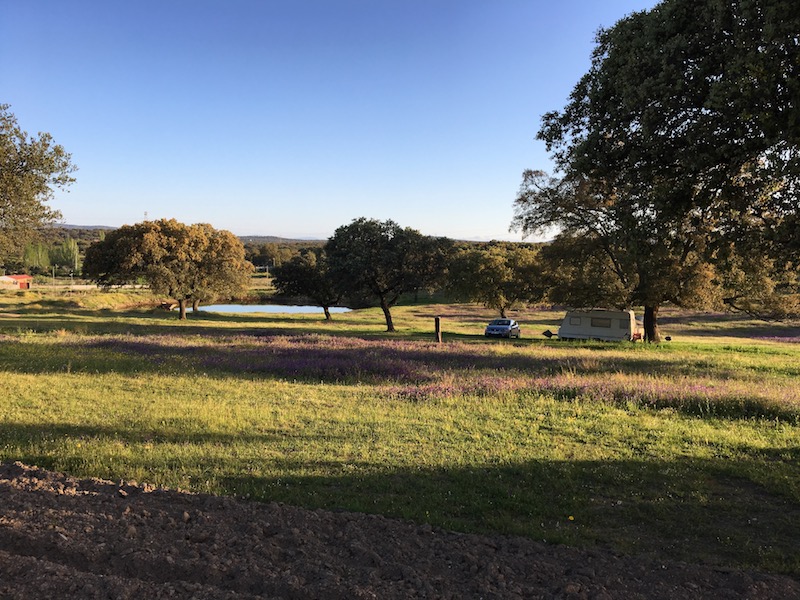 Once inside the park, you can stop in Villareal de San Carlos to get some information about the Park and eat and drink something at the cafe, before starting your hike. We embarked on the most popular hike past Salto Del Gitano and Castillo de Monfragüe, a hike of 8 kilometres total. I was sceptical at first whether we can make it, but both kids were absolute troopers. Milo walked the whole 8 kilometres and Kira did about half and the other half she was riding on my or Anna's back.
Still very impressive. Monfragüe is famous for its birds of prey. Several species have found refuge in this park and Salto Del Gitano is a famous spot to see them. I did not know what to expect, but my mind was blown away. Never have I seen so many birds of prey so close. It was amazing. Pictures cannot really do this experience justice.
Geocaching
Last but not least, one activity which became very popular for the whole family is Geocaching. The kids love it, first trying to locate them, but then also to take and place them back without being seen by mugglers. Kira loves to leave one of her drawings in exchange for some other little toy. For that reason, she also likes the bigger caches better than the small little micro caches.
Travelbugs have also become very popular and we have already found several on our trip and we will make sure that they find a nice new cache. We also have a set of five own travel bugs which we plan to release along with our trip. One in each country. The first was released just a few days ago in Toledo.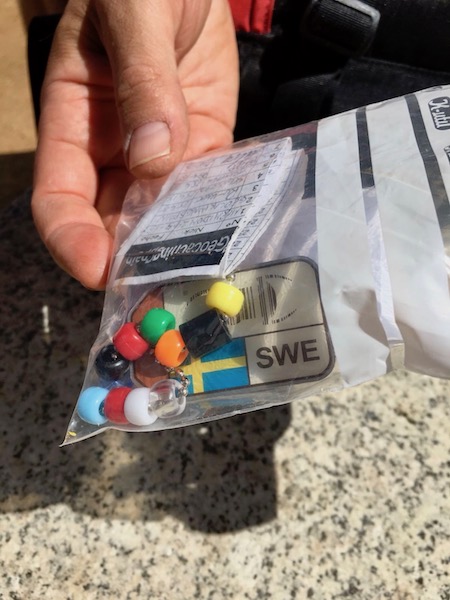 Our first released travel bug Familytravel-1