… a song that Kira and Milo are singing non stop in the car. I am not sure if it is because they really like how the words are sounding or if they loved the city San Sebastián so much. Well, Hardy and I really did love San Sebastián. It is a stunning town even when covered in clouds, and of course, there is the food.
The food
It is said that San Sebastián is the home of the pincho (pintxo in Basque), small snacks typically eaten in bars. Whether this is true or not, the pinchos we ate were delicious. Hardy said that if he would live here, he would never cook again. Hard to believe since he loves to cook but it gives high marks to the cuisine in San Sebastián.
Newly found friends from our time at the Picos de Europa recommended us some good places to eat, and they were spot on. Milo who really enjoys trying all kind of foods approved everything. Kira was less adventurous and mostly ate bread ;-) An example of our culinary adventures includes La Cuchara de San Telmo. Definitely worth a stop.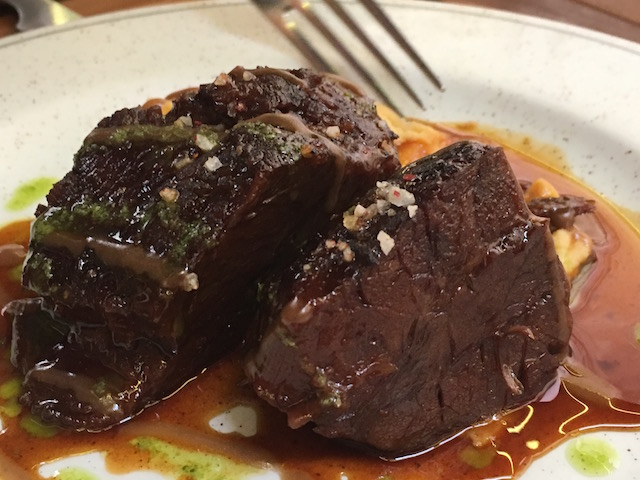 Amazing basque food
Monte Urgull and La Concha
A perfect little excursion is to walk up Monte Urgull and enjoy the stunning views over the city and have a cold drink or ice cream at the bar Polboriña.
The barman recommended us to go and see the Peine del Viento that lays on the other side of the bay. Unfortunately, we did not make it. We had planned to get there by walking the entire La Concha beach esplanade, but when we tried it was too sunny and hot for the kids as well as Ronja. La Concha is said to be one of Europe's best city beaches. That sunny Sunday afternoon we where there the beach was packed. Ronja really wanted to go down for a cooling dip, but of course, dogs are not allowed on such city beaches. Hard for Ronja to understand who peeked longing through every whole along the balustrade. What a shame that there is not even a single small spot where dogs are allowed as well.

Amazing views from the viewing points of Urgull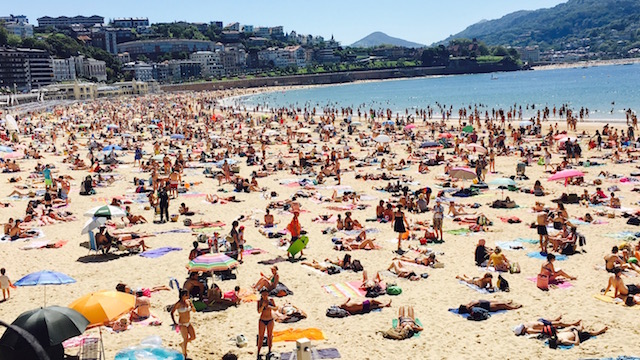 La Concha, a very popular beach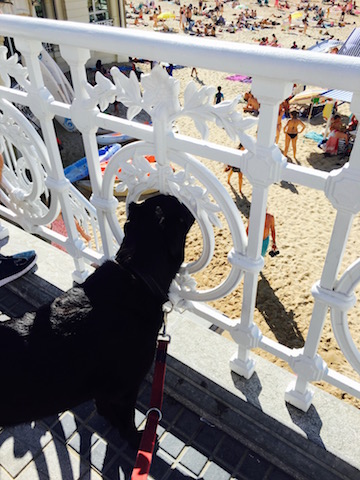 Ronja longing to get into the water
On one of our days in San Sebastián we split up, and Milo and Hardy could enjoy the beach. The beach is very kid friendly with shallow waters several meters out. At low tide, kids also explore the rocks to look for grabs and other sea creatures. Meanwhile, Kira and I discovered more of the old town that has so much to see with many restaurants and small shops.
Alderdi Eder Park
I also recommend to take the time and just hang out around Alderdi Eder Park. There is so much happening there, including puppet shows or giant soap bubble fabrication. There is also a playground and a beautiful merry-go-round which Kira and Milo loved.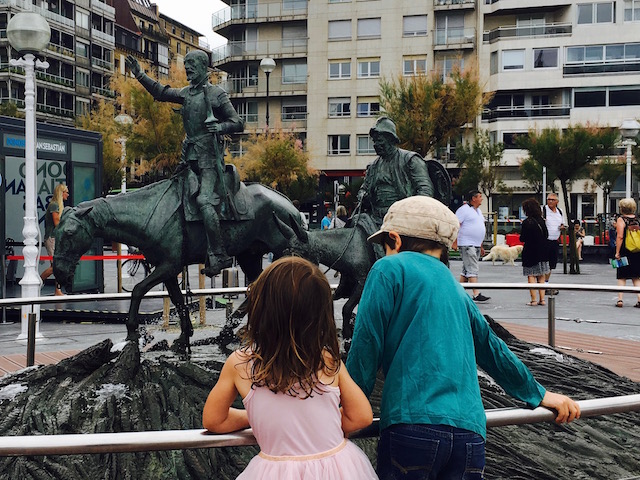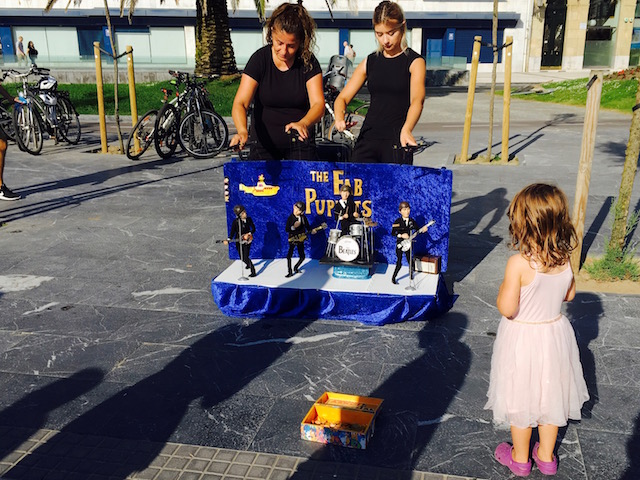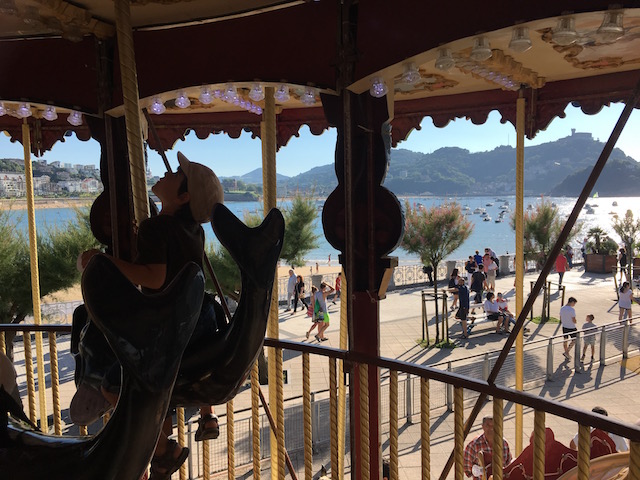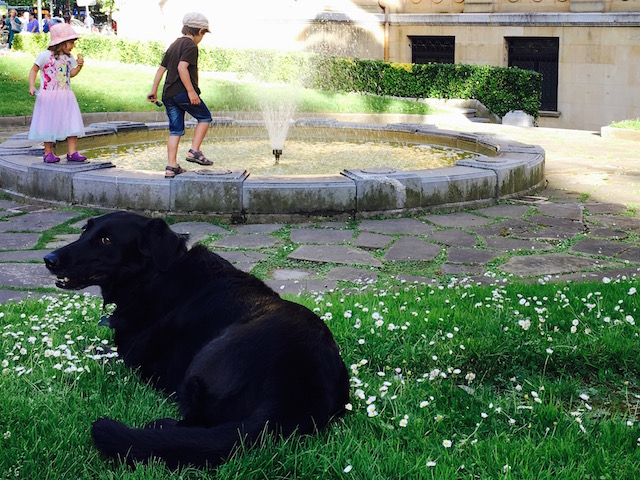 One funny encounter we had in the park was with a group of Swedes in yellow and blue t-shirts. The football world cup was on, and Sweden was going to play against Germany. The group was from Umeå, the North of Sweden and only our third encounter with Swedes during our trip! Having a little chat in Swedish felt nice. Much easier to chat with Swedes one does not know on vacation, compared to back home. The group was on the hunt for a sports bar that showed the game. We for our part headed back to the campground to watch the game in the caravan. The situation was a little confusing because Hardy rooted for Germany, I for Sweden and the kids were not sure who to cheer for (a bit of both in the end). It was very intense and only in last second Germany made another goal and won over Sweden with 2 to 1.
After the days in San Sebastián Milo said here we could rent a house for a few months and live. At this point, Kira and Milo sang "San Sebastián, San Sebastián" the entire way back to the campground. Well, I for my part could for sure live here!
Camping Igara de San Sebastián
The campground "Camping Igara de San Sebastián" we stayed at was one of the stranger ones we have experienced. At first, I could not put my finger on what made it so weird. Then it hit me. There were no details, no feeling no atmosphere. It was campground trimmed for efficiency. It had the best internet we have seen on a campsite. It even had soap on the toilets. Still, everything felt sterile. The camping spots were tiny, and the owners also suggested to camp in-between the bungalows. On the whole campground, there was not a single planted flower. A big contrast to the picturesque campground in the Picos. The big drawing card (at least for us) was the proximity to San Sebastian.
We also had a funny encounter on the campground with Sting's (the singer) wine promotion campervan. Apparently, Sting has its own winery in the Tuscany, and when on tour the camper is following. Any time Sting feels for some wine he just goes there and has a sip. Unfortunately, we never met Sting, the campervan was only relocated back to Ireland.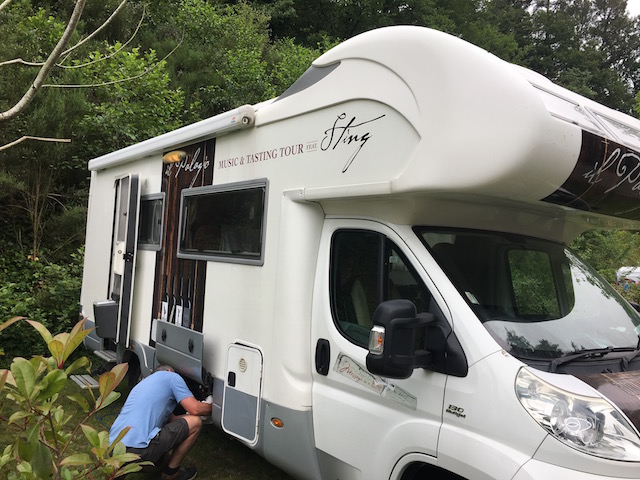 Sting promoting his wine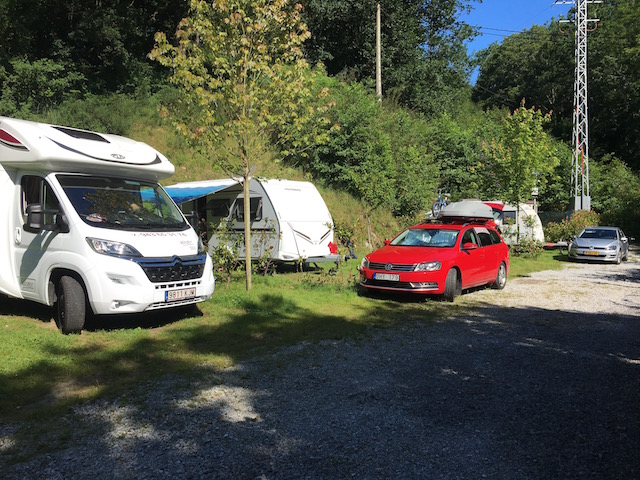 A very unpersonal campground
What to do
Eat at La Cuchara de San Telmo.
Walk up to the viewing points at Monte Urgull and have ice cream at Polboriña.
Have a swim at La Concha.
Enjoy the esplanade and Alderdi Eder Park taking in the atmosphere.
Explore the old town aimlessly wandering its streets.
Visit Peine de Viento see the sculptures and watch the waves splashing up the wall onto the road.
For more pictures check out the San Sebastián Gallery.