We are sitting in the car seeing Picos de Europa in our back mirror. Hardy and I both agree on that this is a place that we for sure will return to when Milo and Kira have gotten longer legs. Next time we will stay longer. Just thinking about exploring new beautiful walks every day makes us smile.
We have been in the Picos for five days and stayed in the beautiful camping Camping Naranjo de Bulnes. It was the best campground on our journey so far. The best showers with good water pressure and a temperature which could be controlled appropriately. Also without that annoying push button, you always have to push to get the water running. Good showers are for sure needed to rinse off the sweat after a days walk. Especially when you have had a tired, 10 kilogram Kira on your back.

The best campground so far
The highlight for both Hardy and me was when each of us took a day off from our daily job (fixing and servicing the kids). Both of us choose to walk the Ruta de Cares. It is a 24 km return walk in a stunning mountain valley. The path is easy in the sense that is pretty wide about 2 meters. But you can't be scared of heights because most of the time it has a vertical slope on one side. And you can't have a weak heart because the views will take your breath away. I smiled the whole walk because of the fantastic scenery. However, don't expect to be alone on the route because it is very popular. However, if you start early in the morning (around 7 am) you will have a few hours headstart of the bigger groups.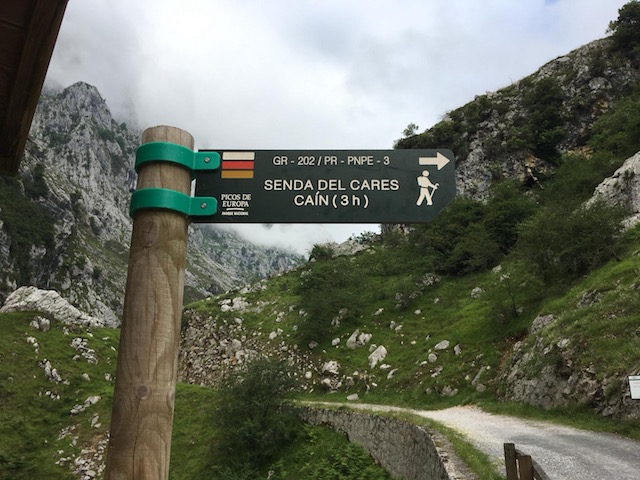 Starting point from Poncebos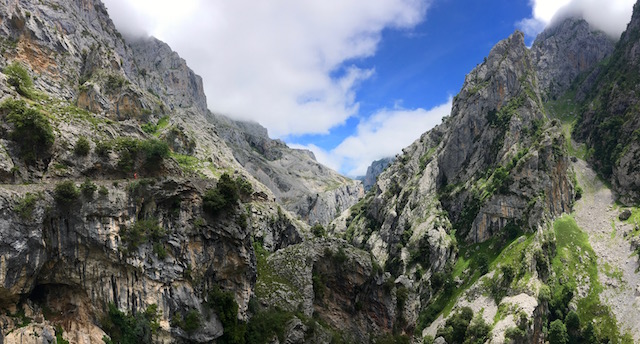 Beautiful views all the 6 hours walk
The first 2 km walking from Poncebos is a climb up, but the remaining 10 kilometres are flat until you reach the town of Leones de Cain. Here you can have a rest. If you arrive after 1 pm, you can have a menu of the day for about 12 EUR. If you come earlier, a sandwich must be enough or like me just some salty chips and a cold coke to wash it down.
If you cannot do the entire walk, I recommend you to drive to Cain and from there go as far into the valley as you can. The most stunning views are in the first few kilometres.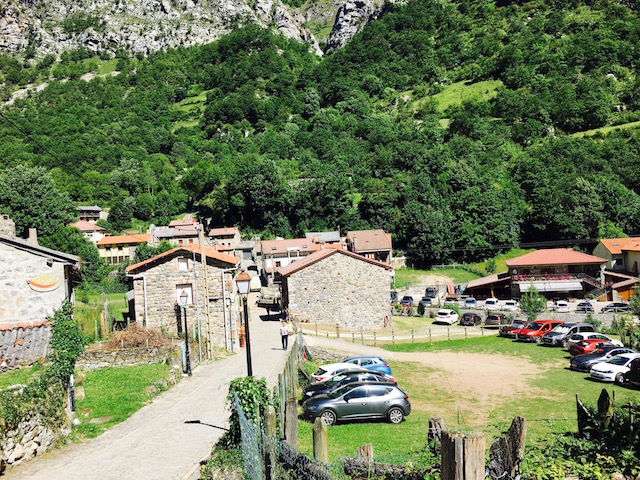 From Poncebos you walk 12 km to the town Leones de Cain
Along the Ruta de Cares are a few information boards with some old black and white photographs. Seeing those pictures makes it evident that this route through the mountains would not have been possible if it weren't for 500 brave and hardworking Spaniards. Sadly eleven of them had fatal accidents. It was in 1915 when it was decided that water tunnels would be construed to transport water to a hydroelectric power plant in Poncebos. This fantastic engineering feat was completed six years later in 1921. During the walk, you see the water tunnels, and I had a hard time imagining how they made these small tunnels. They went through the mountains for 11 km! Here and there the water flows in brick channels as well, and one can see them directly. Starting in 1945 today's walking path was created. It took six years to build and was intended to maintain the water tunnels and channels easily. Thanks to all these hard work this beautiful walk is now available to us ordinary people. Over 100 000 hikers follow the Ruta de Cares every year. Don't let that number scare you though. Just go up early, and you will have the most beautiful experience ever.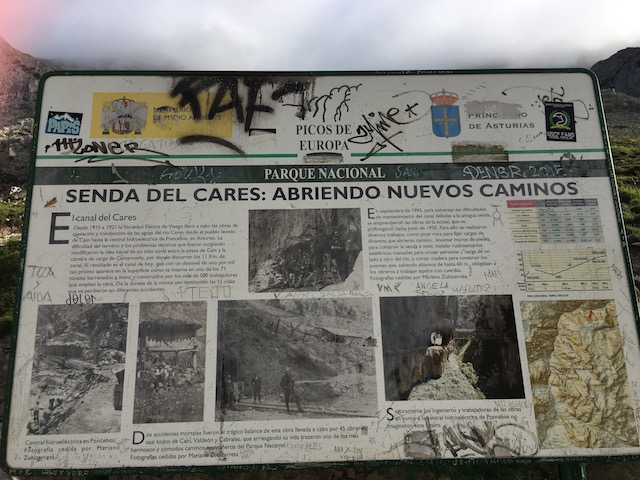 The sign says - all the workers would not have a clue what path they have prepared for the thousands of walkers every year.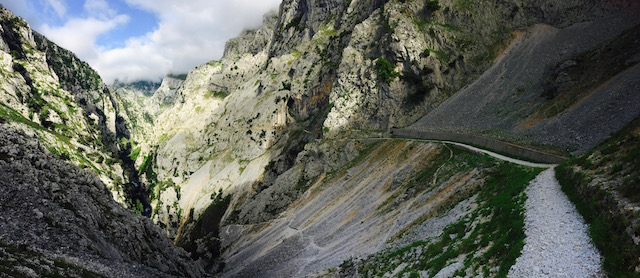 The path is very well prepared.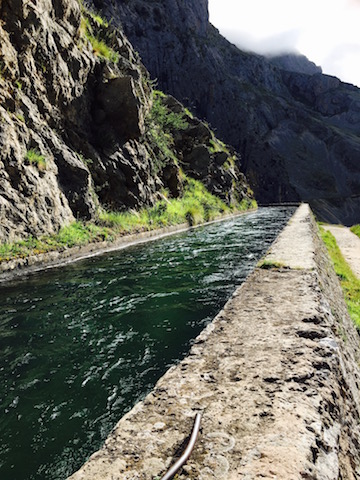 One of the places where you see the water tunnels. Here you can refill your water bottle.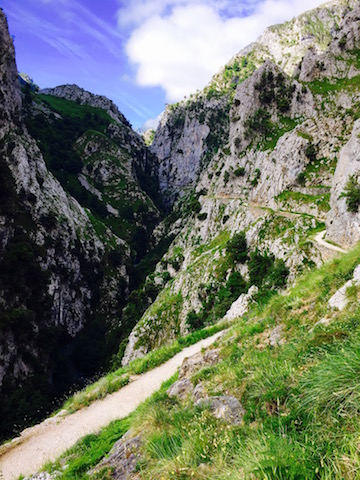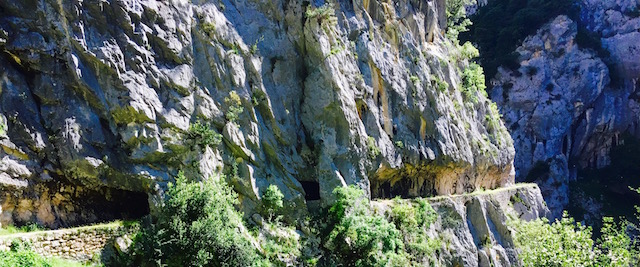 I did the walk without Ronja because she needed the rest after having done that same walk with Hardy the day before. If you do the hike with your four-legged friend bring some water for the first kilometres. After that, you can fill your water bottle from the water canals at various places.
Besides some snacks and water, I would recommend bringing sunscreen, a hat, a power bank to charge your mobile phone and plenty of memory on your phone/camera for taking pictures.
During the walk, I saw all kind of people. There was one super fit that ran the whole way, then we had the one with jeans and a handbag, some retirees and many young girls walking in tights. I also have met an entire platoon of Spanish soldiers.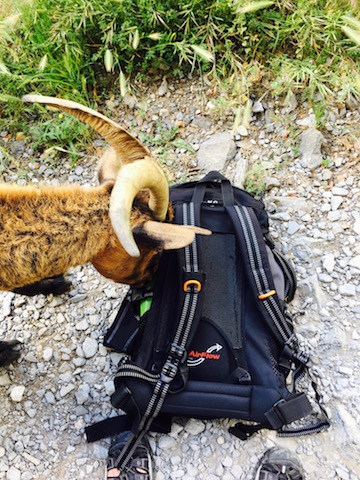 I met a lot of goats. They were all very shy until I put my bag down. Then they got very curious looking for food.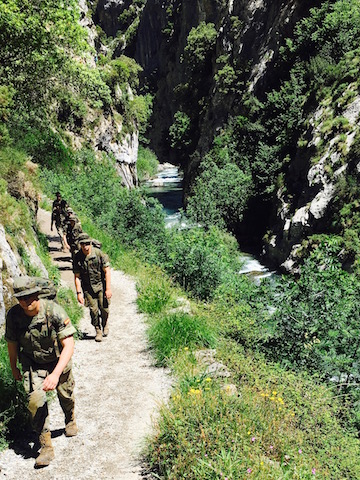 The Spanish army.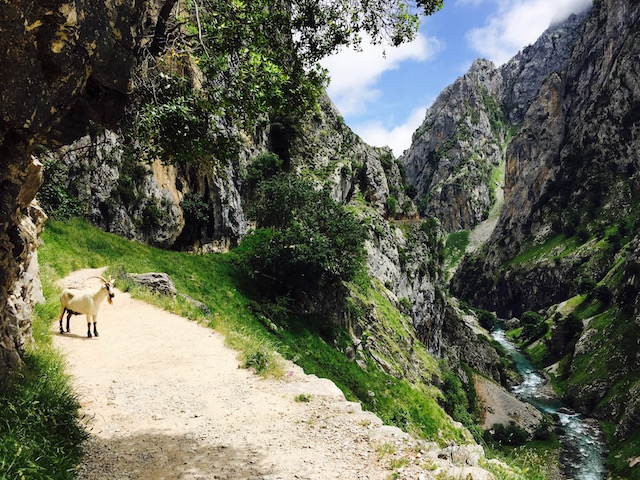 What to bring:
Walking shoes. I had my Keen sandals which were sufficient and kept my feet cool.
Sunscreen, at least 30+ I had the kids 50+
Water and snacks. You can buy drinks and food at xxx
Power bank for your mobile so you can take many pictures. Some places on the walk you don't have any coverage.
A hat
Water for your dog.
Empty your mind and enjoy the wonder of nature.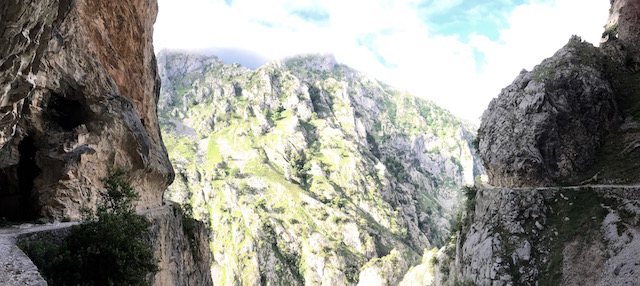 To see more pictues of Ruta de Cares please look at the Gallery