It was a very exciting day for us when we entered Portugal. Not every day you visit a country you have never been to before. There was no drastic change in the landscape from inland of Spain to Portugal, however, a drastic change when it comes to the cleanliness of the streets and the ability of the people to speak English. The streets are even cleaner than in Sweden. Why it is so much cleaner I have no idea, but why the people speak much better English could be that the television and films are not dubbed. Portuguese watch all movies in their original language. There is no problem to communicate in English with most Portuguese.
Our first stop in Portugal is Evora, a UNESCO world heritage town.
We are here to catch up with Hardy's aunt who lives here since the beginning of April, working on an eco-farm.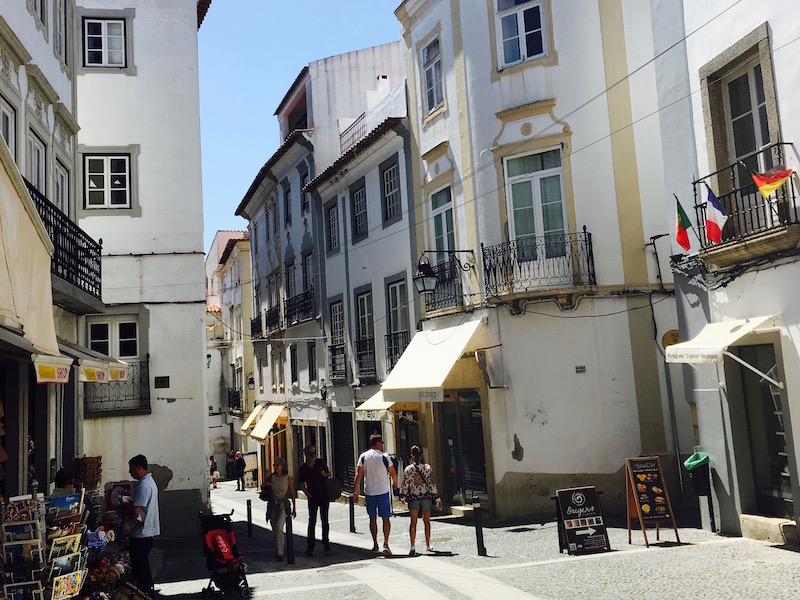 Evora is not so big and it is easy to walk around town. Some nice stops are the indoor food market where we highly recommend to try the Azeitão cheese of which you cut of the top and scoop out the inside. Yummy!
Even though there was a no dog sign they told us we could go in. That was very welcoming. Continuing our stroll we also found a nice ice cream shop on a little side street called Le Boudoir. If you like pistachio ice-cream you will not be disappointed. One of the best ice-cream so far on this trip.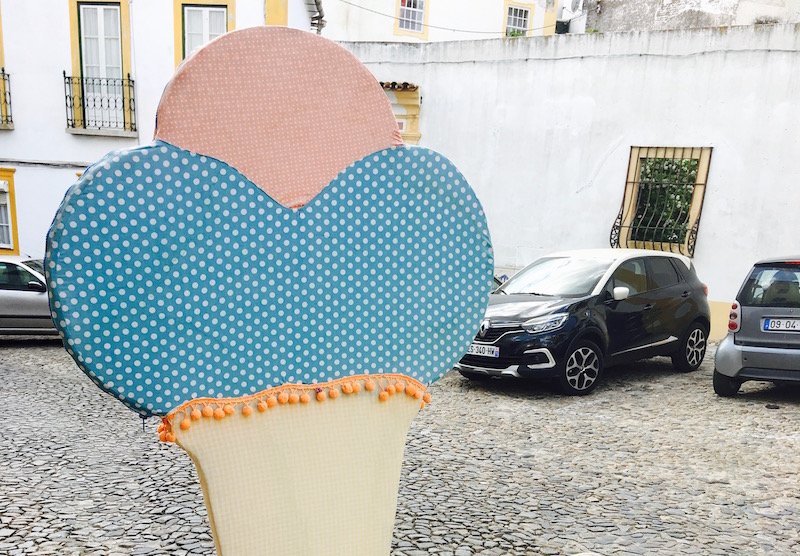 One day we got the urge for Sushi which is, by the way, Milo's and Kira's favourite food. We found a cheap and decent place called Samurai which has a Sushi buffet. In case of takeaway, you can fill your box as much as you want for 6.50 EUR. Of course, dogs were not allowed, so we settled for the takeaway.
Generally, Portugal seems a bit cheaper than Spain when it comes to food. Here in Evora, you could get a lunch menu for 7 EUR compared to about 12 EUR in Spain. A coffee 0,80 EUR compared to 1,20 EUR.
A very nice place to stay for a coffee is at the cafe at Jardim Diana.
Here you have a great view and you can sit and relax while the kids can run around after they have finished their ice cream. But watch out, they might get wet.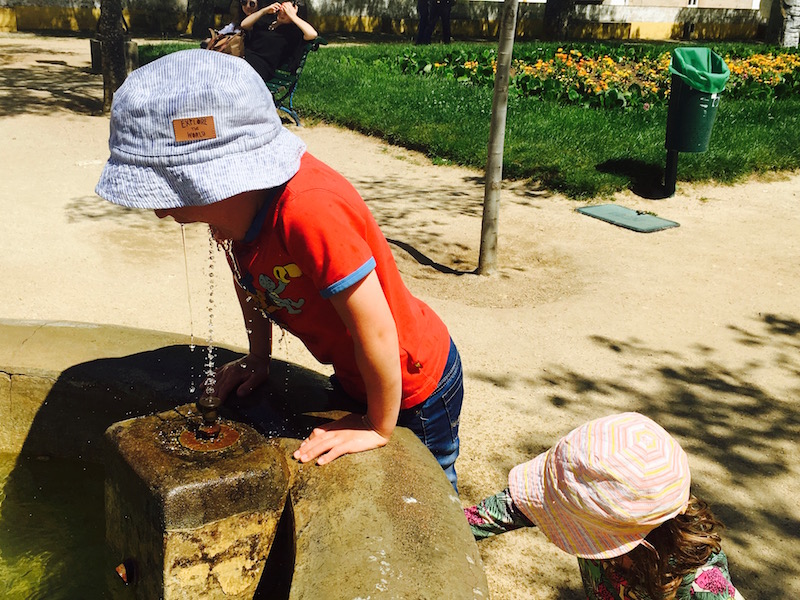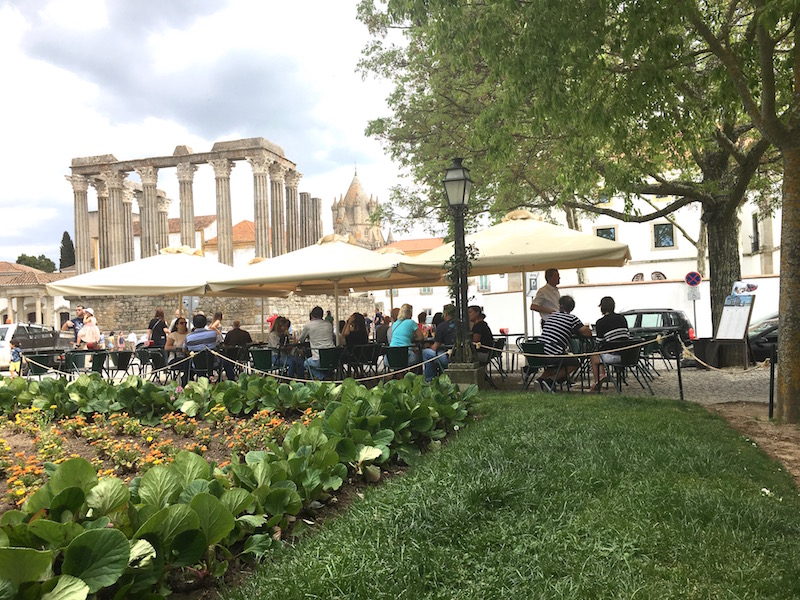 We also discovered a very nice medieval festival. It might be on every May.
A must do is an excursion to Monsaraz.
Monsaraz is one of the oldest Portuguese settlements in southern Portugal. When you are up on the castle you have stunning views over the Alentejo landscape. You can see the biggest artificial lake in western Europe, Guadiana River and Algueva Dam. Pretty impressive. For lunch in Mosaraz and if you have a dog you should avoid the restaurant Xares. Dogs are not even welcome on the outdoor terrace. Instead head to Cafeteria Casa Da Muralha (next to the castle entry) where you can get some simple sandwiches and omelettes and a warm welcome for your four-legged friend.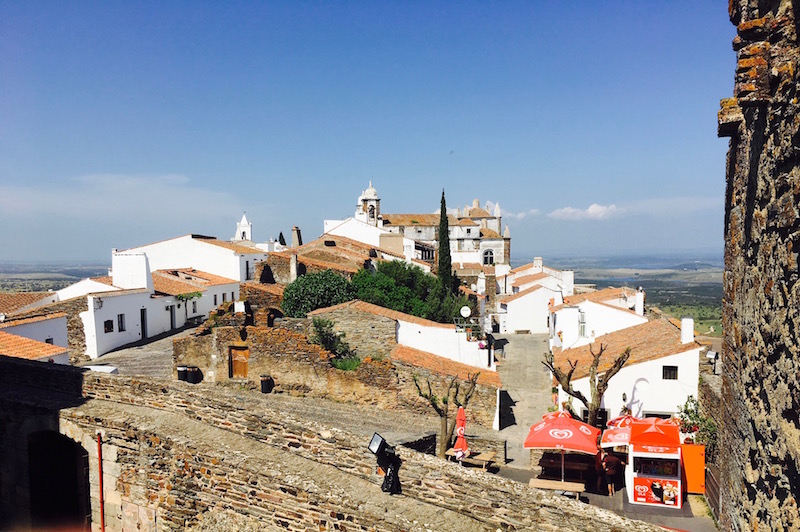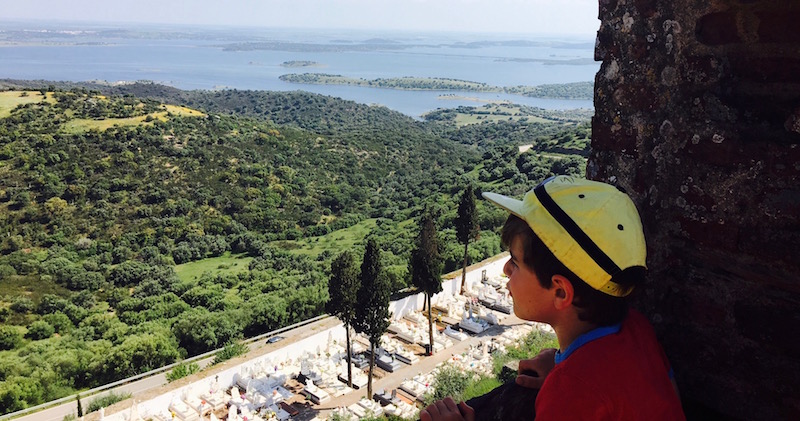 Close to Mosaraz our dear friend Bruno showed us his land where he plans in the near future to build an Arabic inspired ecolodge. Just imagine sitting on the porch and watch this sunset. We will for sure be back when it is open for tourists.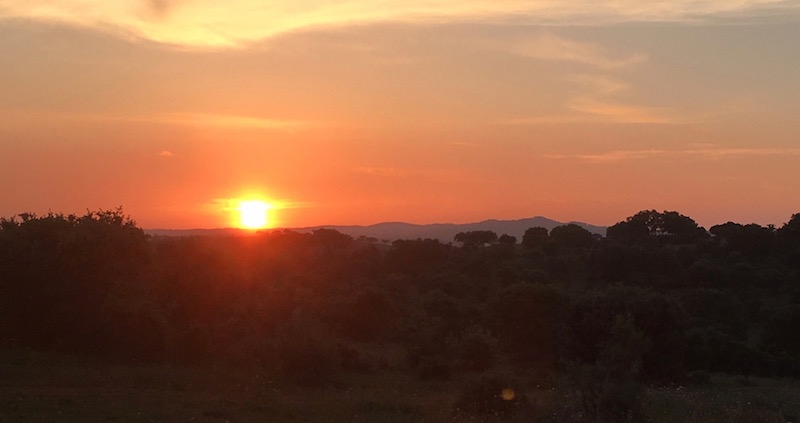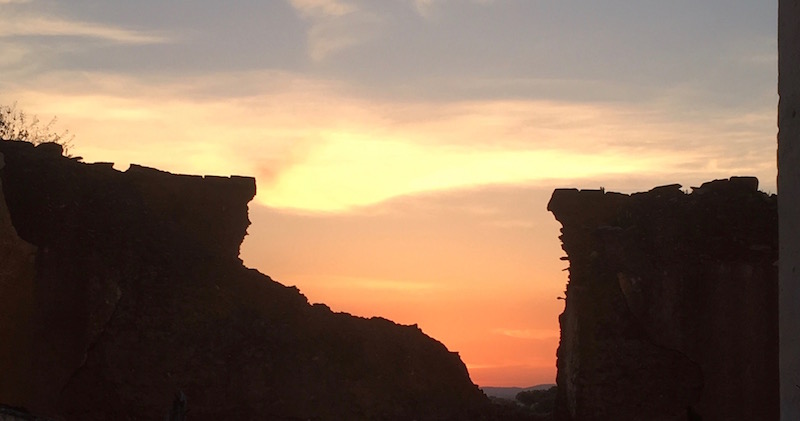 Another very nice project that you can find close to Evora is Cooperativa de Usuários do Freixo do Meio. This is a great cooperative focusing on ecological farming and the restoration of the landscape by amongst other things planting trees. It employs people from the nearby village as well as volunteers from around the world. They produce for example organic olive oil, vegetables, honey, wine and various meat products. They have a store on the premises and a boutique in Lisbon. Milo and Kira liked all the animals - the pigs, the donkeys, the chickens, but also the ants crossing the road :-). If you are interested in a visit, check out there website.
The only thing that was sad to see was the conditions of the dogs. They were either tied up on a rope and could only run a few meters back and forth or they were in a very small cage. We would very much like to see these dogs be better-taken care off. Like big kennels.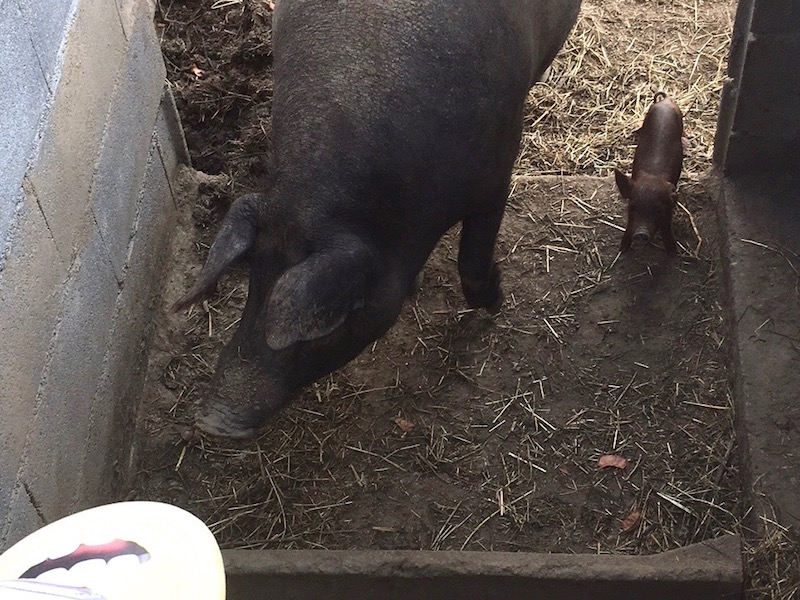 Another very unhappy dog we saw next to the road outside the town of Motrinos (on our way back from Monsaraz to Evora). It was a female dog, very thin and with a big tumour. We stopped and gave her what we had left of Ronjas food. Our friends contacted an animal rescue organisation that we hope will take on the case and help this poor dog. I will update this text as soon I know more. (Please read here the happy ending of the dog now called Kika). Ronja's life with us is for sure an exclusive and lucky one compared to many of the dogs we have seen on our trip.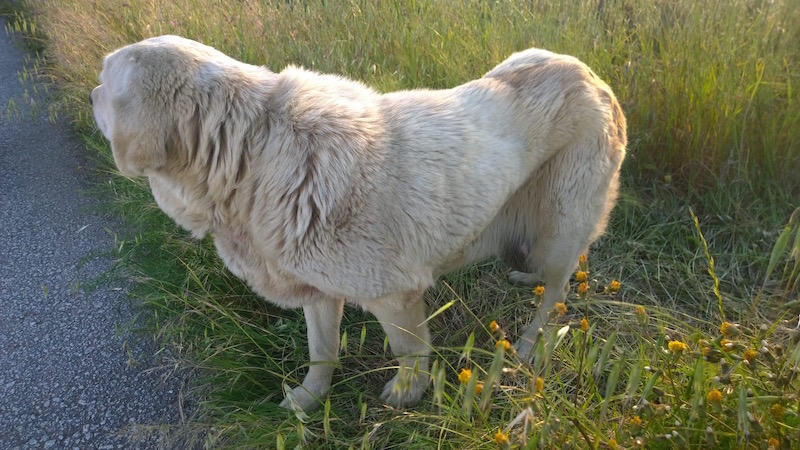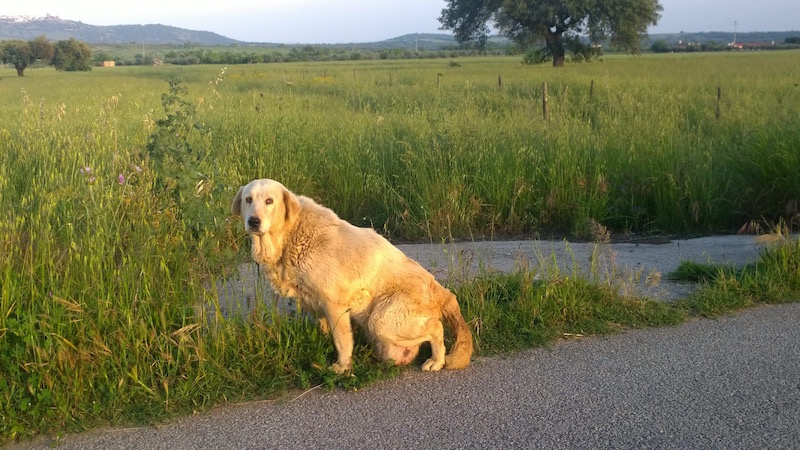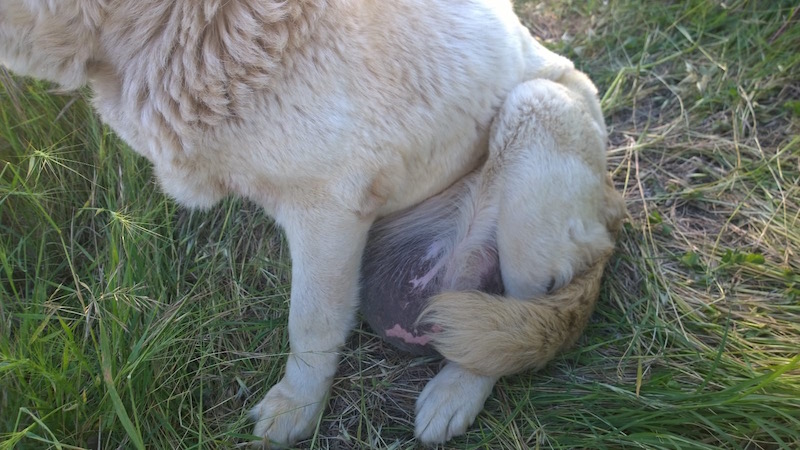 On one of our day trips, we stopped in Montemor-o-Novo and went to a very special little restaurant called Adega Montemor.
When we came there it was an old lady that mopped the floor and asked us kindly to come back in ten minutes. After we came back we discovered that the same lady was also the one that took our order and then cooked our food. Her husband helped with the serving. It was a very pleasant atmosphere and the home cooked food was very good. It has a kid menu and Kira had a hamburger with potatoes and Milo the chicken nuggets. It was super good. We, adults, had grilled fish with veggies which was also very tasty.
Along the roads, we have seen many stork nests with baby birds sticking out and the parents watching over them. We got very happy to see so many storks and we learned that they are doing pretty well as a population down here. That is good news!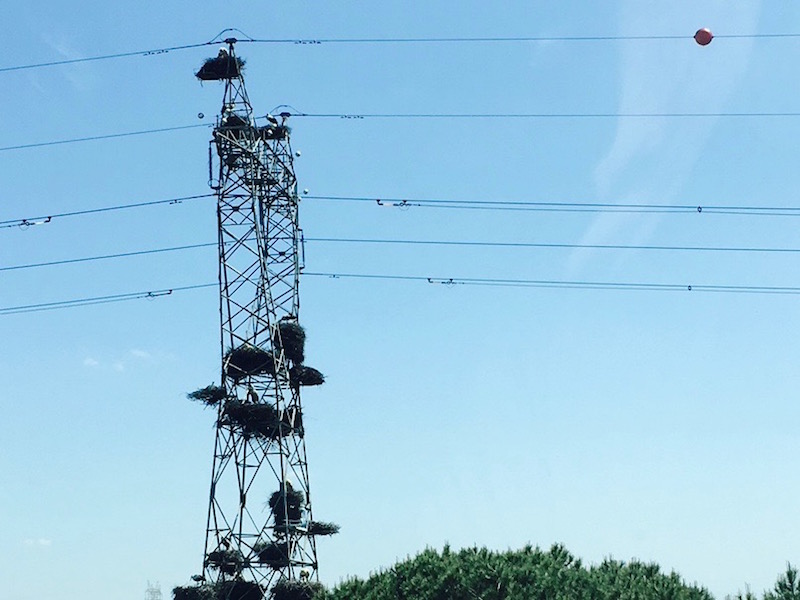 So far Portugal has delivered well beyond our expectations.
See more pictures of Evora in the gallery - click here
See more pictures of Monsaraz in the gallery - click here